These Badass Women Are Taking on Poachers—and Winning
The all-female Black Mambas guard South Africa's most precious wildlife with their lives.
It's 6:40 a.m. when I step into a white jeep inside Balule Private Game Reserve, a protected wildlife area spanning nearly 100,000 acres on the western border of South Africa's world-famous Kruger National Park. Behind the wheel is Shadu Hlangwana, with Felicia Mogahane in the passenger's seat and Carol Khosa in the back with me.
Having lost my luggage in transport, I'm wearing jeans with a beige fleece and camouflage cap from the Pondoro Game Lodge, the reserve property that is my home for the next two nights. I feel ill-prepared next to their fatigues. My magenta lipstick doesn't help, but it is what breaks the ice.
"Are you talking about my lipstick?" I ask, eyeing Hlangwana's red nails on the wheel and Mogahane's pearl earrings. Mogahane looks over her shoulder and reveals a sheepish, gap-toothed grin. For the last hour, "lipstick" was the only English word spoken outside their native tongue, Tsonga. This segues to a conversation about beauty while we cruise three miles per hour along an electric fence at Olifants West Gate.
These three 20-something women may be shy and protective, but they are guarding more than themselves here. They are the Black Mambas, the world's first all-female anti-poaching unit, and, together with 30 other local women, they are saving South Africa's endangered rhinos and elephants.
VISITING THE MAMBAS
Few barriers separate Balule, founded in the early 1990s, from Greater Kruger National Park, with some exceptions designed to keep animals from crossing highways, and more importantly, keep poachers and bushmeat hunters out. Each month, every Black Mamba spends 21 days straight patrolling Balule by foot or jeep—four hours at dawn and four hours at dusk—in search of snares, human tracks, sounds of gunshots, and other suspicious activity. While they are not making arrests, they do call in backup, or trained special forces, to seize troublemakers.
The award-winning nonprofit, which launched in 2013, has significantly reduced incidents of snaring and poaching by as much as 76 percent, accordings to their website. Their success has garnered global attention, including interest from Extraordinary Journeys, a luxury travel agency that specializes in safaris and supports community, conservation, and sustainability initiatives. The company recently partnered with Pondoro to offer guests exclusive tours with the Mambas twice a week, donating all profits to the program. Guest tours feature classroom presentations, where you learn how the Mambas are making a difference. My personal tour, however, offers a unique inside look.
AN IMPORTANT PRESENCE
This morning, the Mambas' mission is to report abnormalities, such as signs of fence tampering. We stop for Mogahane, an original Mamba and mother of two, to check the shock box. I follow her to study the voltage but am too nervous to focus. For all I know, a lion or leopard may be watching us. After all, we're in Big Five territory without any protection.
That's right, the Black Mambas patrol unarmed.
"I've been doing this for 24 years and have never had to raise a weapon to a wild animal," Craig Spencer, the Black Mambas founder and head warden at Balule Nature Reserve, tells me later. "The poachers would have to consider defending themselves against these women. Creating orphans and widows is not the answer to this problem. You can't shoot this problem away. Early detection is their key role."
With this in mind, Spencer looked to the British police, or "bobbies on the beat" as he calls them, to establish a model for the Mambas. "They are unarmed, courteous, well-dressed, and eloquent. They have a presence, [which functions as] crime prevention. That's the idea: Saturate the landscape, make them visible wearing badges, practice early detection, and then call in an armed response."

WILDLIFE RUN-INS
Back in the jeep, Mogahane relays stats to Khosa, who radios headquarters. My anxiety about leaving the jeep is validated when Khosa reveals a terrifying incident from March.
"I was patrolling with another Mamba [at 9 a.m.] when we were surrounded by eight lions," says Khosa, the breadwinner of her family, which includes her two children, mother, and five siblings. "We tried to radio it in, but there's no way someone would have arrived in time. One of the land owners saw us and came to the rescue."
Hlangwana, the newest Mamba as of this year, chimes in about her own run-in a few nights ago. "I switched on the headlights [at 7:30 pm] and saw two elephants. The first one passed, but the second stopped and started charging aggressively toward us. I was scared and had to act fast," says Hlangwana, who has one child.
"We're lucky that Shadu stayed calm enough to turn the car away from the elephant," Mogahane says.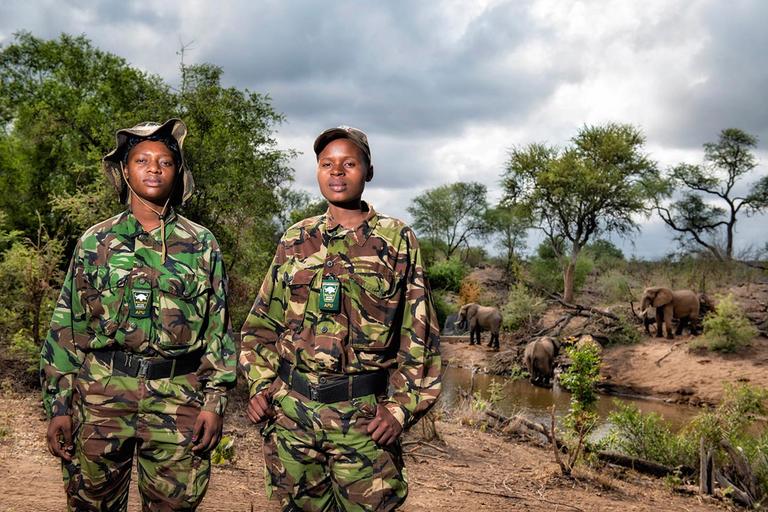 SERIOUS TRAINING AND DEEP MOTIVATION
What the Mambas lack in weapons, they make up in skill, teamwork, and gumption. The three months of required training for entry include physical exercise, like running around three miles daily, and classroom work, such as learning surveillance practices, compliance techniques, and how to use walkie-talkies. The last month is the most rigorous, focusing on survival tactics in the bush, including building shelter and functioning without food or water.
The extensive training is part of why, in four years, there have been no casualties on the job, despite regularly facing serious peril. Sure, it's a dangerous job, but the work experience is invaluable—providing hope for a better future while fulfilling many Mambas' passion for wilderness.
"I've loved nature—the trees, animals, birds, all of it—since I was young," Khosa says. Mogahane adds, "If I could go back to school, I would study conservation. What we are doing is important and amazing. They say it's a man's job, but we are doing it."
"WHAT WE ARE DOING IS IMPORTANT AND AMAZING. THEY SAY IT'S A MAN'S JOB, BUT WE ARE DOING IT."
There are female rangers in South Africa, but they're rare. On top of combatting assumptions about their abilities, women are battling against systematic education exclusion and a struggling economy in South Africa, where unemployment reached nearly 28 percent in 2017.
"It's as much about conservation as poverty relief," Spencer says. Partially funded by the government, the nonprofit offers women the opportunity to develop skills to help improve their immediate lives and future. Mambas starting out receive a wage of approximately 3,500 rand, or around U.S. $260, per month, which is the national minimum wage. Drivers, like Hlangwana, and sergeants, like Mogahane, earn slightly more.
"Most started because they needed a job, but now, it has become a source of dignity to be a Black Mamba," Spencer says. "They get given a break for the first time in their lives."
Nick Koornhoff, a member of the Parliament of South Africa and chairman of Balule's Olifants West Nature Reserve, agrees: "I see this extended public works program as a fantastic stepping stone. These women, who had no opportunity, are now able to seek better employment in the future. They are heroes in their communities."
INSIDE THE DEADLY RHINO HORN TRADE
THE MAMBA'S FEARLESS LEADER
Before introducing himself, Spencer, a 40-something South African of English descent, paces at headquarters around this morning's jeep—one of the group's 13. His tanned bare chest, khaki shorts, and boots look the part, but the Sherlock-Holmes-esque pipe is next level.
As he furiously inspects a new dent, he grumbles about how the damage should have been reported. He walks over to the driver's side, pulls the key from the ignition, and chucks it over a brick wall. The Mambas are a short walk down the dirt road in their wooden shacks, where they are doing laundry and preparing lunch. This spectacle is just for me, I guess. After he puts on a shirt and shakes my hand, he explains his actions.
"I do see myself as a bit of a father figure to them, which is why I'm hard. I call it tough love. I love every single one of them desperately and want the very best for them," he says. "Best" includes safe, fully functioning vehicles, which is the only armor they have while on patrol. Like a proud papa, he continues to sing their praises.
"BEFORE THE BLACK MAMBAS, WE WERE TRIPPING OVER RHINO CARCASSES."
"Before the Black Mambas, we were tripping over rhino carcasses," he says, using the edge of my business card to clean his nails. "This year, we've seen eight dead rhinos, which is way too many." That's not bad considering that on average 3.5 rhinos are being shot daily in South Africa, home to 70 percent of the world's remaining 29,500 white rhinos. One reason for the recent uptick: the sale of rhino horns just became legal again.
"We're trying to save the rhinos by creating a totally different set of values within the community. These women are very proud to wear the uniform. They are role models. I want to see them grow, build houses, send their children to school," says Spencer, who is skeptical about any attempts to franchise the program.
"First, we need to capture the formula. You can't just duplicate this model. There are certain variables that make it work here that may not work elsewhere," Spencer says. "Also, the management style has to be firm and fair. And you must care about these women."
Spencer claims to receive no compensation for this nonprofit work and admits, "I often wonder if I need the Mambas or they need me? I've lost my heart and soul to them. They are my reason for sticking around. It used to be the elephants and the rhinos, but now, it's these women."
Koornhoff suspects Spencer is the secret ingredient: "What he did with the Black Mambas has never been done before."
Cristina Goyanes is a travel, fitness, and lifestyle writer based out of New York City. Follow her on Twitter @GoGoGoyanes and on Instagram @cristinagoyanes.